Plantry Plant Based Food Frozen Ready Meal Lasagne 350 g
Plantry Lasagne treats you to perfect layers of pasta complimented with a flavoursome tomato sauce and a tasty bechamel sauce on top. Enjoy this vegan friendly meal at home or stock it in your office freezer and easily reheat it for a quick and tasty lunch.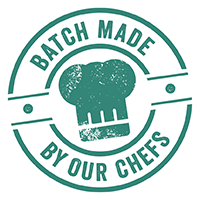 Find out more
Dreaming of a meat free lasagne? Try Plantry Lasagne. It has that classic, mouthwatering lasagne taste in vegan friendly form, so you can enjoy a great tasting dish no matter your dietary preference. Crafted from quality ingredients and snap frozen, each bite is packed with delicious flavour. No artificial colours or flavours Plantry Meat Free Frozen Meal Lasagne is vegan friendly and prepared by professional chefs for a fresh tasting, easy and hearty meal option.
Ingredients: Water, tomato puree (27%) (peeled tomatoes, tomato juice, acidity regulator (330)), lasagna (16%) (durum wheat semolina, water), plant-based mince (13%) (soy protein, water, vegetable oil, wheat gluten, natural flavours, sugar, spices, salt, emulsifier (476)), soy milk, onion, tomato paste, sugar, wheat flour, vegetable oil, mushroom seasoning, garlic (0.3%), shallot, parsley (0.2%), salt, thickener (1422), mixed herbs, basil leaf, bay leaf.

Contains Cereals and its derivatives, Soybean and its derivatives, and Wheat and its derivatives.
May contain Sesame Seeds and its derivatives, Peanuts and its derivatives, and Tree nuts (Nuts) and its derivatives.
Free from Milk and its derivatives

Storage Instruction: Keep frozen. Once thawed, do not refreeze.

Made in Singapore.

Product Claims: Vegan. Dairy Free. Vegetarian. No Artificial Flavours or Colours. Plant Based

Serving Size: 350g

Suitable for: Vegan | Vegetarian
Average Quantity per Serving
% Daily Intake (per serving)*
Average Quantity per 100g
Energy
Average Quantity per Serving:
1690kJ
% Daily Intake (per serving)*:
19%
Average Quantity per 100g:
480kJ
Protein
Average Quantity per Serving:
20.8g
% Daily Intake (per serving)*:
42%
Average Quantity per 100g:
6g
Fat, total
Average Quantity per Serving:
12.1g
% Daily Intake (per serving)*:
17%
Average Quantity per 100g:
3.5g
- saturated
Average Quantity per Serving:
4.4g
% Daily Intake (per serving)*:
18%
Average Quantity per 100g:
1.3g
Carbohydrate
Average Quantity per Serving:
49.5g
% Daily Intake (per serving)*:
16%
Average Quantity per 100g:
14.2g
- sugars
Average Quantity per Serving:
14.9g
% Daily Intake (per serving)*:
17%
Average Quantity per 100g:
4.3g
Fibre
Average Quantity per Serving:
5.8g
% Daily Intake (per serving)*:
19%
Average Quantity per 100g:
1.7g
Sodium
Average Quantity per Serving:
1160mg
% Daily Intake (per serving)*:
51%
Average Quantity per 100g:
330mg